Save the Dates
Because of the short time between our engagement and wedding, we needed to notify a lot of people about the wedding ASAP. I've seen so many adorable save the dates, but we didn't have time to get very creative on this front. We didn't have engagement pictures taken, so any type of photo option was off the table. In the end I found this cute and reasonably priced option at Vista Print:
Invitations
We worked with Jill from Westwood Paper Company. I'm so glad that we had her helping us out with the whole process. Jill also helped with all of the other paper products that we needed to order. We picked out the Solstice invitation by Checkerboard. It was a lovely classic design, and I was in love with the fact that it had a ribbon bow (even if it did increase the price of mailing each one by $0.20). Because we were trying to get the invitations out quick, we decided to get them pre-addressed by the company. My hands were loving that after addressing all the save the dates by hand!
In addition to the invitations, we ordered reception cards and response cards that allowed our guests to pick their dinner option. Despite having the envelopes addressed, I still had to spend hours stuffing and licking those envelopes!
We went and bought stamps in advance at the post office. Because wedding invitations often require the extra $0.20, they make wedding stamps in the regular postage price and the higher postage price. At first the post office tried to tell us that we could pay the extra $0.20 to have the invitations sent to Canada, but that the domestic invitations needed to be priced based on their weight, result in a price that was higher than the cost of sending invitations to Canada. I decided this was ridiculous, so I sent a trial invitation to my in-laws with the extra $0.20 of postage. It worked, so I sent all the rest of the invitations that way and it worked out just fine! I recommend getting your invitations checked out at the post office to make sure you have the right postage before you actually send them out, but if something sounds ridiculous then go get a second opinion at a second location.
My wedding planning experience was relatively seamless. My only big complication was that a lot of the people that we invited to the wedding were in Canada. It caused some issues with our wedding registry at Macy's. People in Canada ordered gifts for us off our registry using the Canadian Macy's site, somehow resulting in their gifts showing up as having been purchased for a couple registered in Brooklyn, even though we were actually receiving the gifts they sent to us. The gifts weren't marked as being "purchased" on our registry so we got a few duplicate gifts before it was sorted out. Sorry to the mystery couple in Brooklyn who might have thought they would be receiving some vases and candle holders….oops. The other big international issue was getting envelopes addressed by the printer. It took three attempts to get it right, which was stressful because we were in a time crunch. The first time around they forgot to put the provinces in the address. That's like forgetting to put the states in the address. Sending something to a city might work if you have the zip code (or in our case, the postal code), but we also discovered that the cursive font we had used for the envelopes didn't work so well for the all capitalized letters in the postal code. The capital letters have all the flare, so they kept running into each other and making it nearly impossible to read. When we got them to add the provinces to the envelopes we also got them to change the font. I honestly can't even remember what was wrong with them the second time. All I remember is that it took three tries to get those babies right. Sigh.
Wedding Programs and Inserts
Who knew creating a wedding program could be so complex? We had an Episcopal service, so technically the entire service would be really easy to follow our of the Book of Common Prayer. Most of our guests weren't Episcopalian though, so they wouldn't pick up on that intuitively. Also, an Episcopalian wedding service is pretty standard, so if you've been to one you pretty much know what to expect. Again though, a lot of our guests probably had never been to an Episcopalian wedding. I didn't want to overload the program with too much detail, but I also didn't want people to get lost.
We took pictures between our ceremony and reception, so or guests had a couple hours to kill during that time. Granted, it was at least a 30 minute drive between the venues, but that still left them with plenty of time to do….well, a lot of things. We had a lot of out of towners, from people who lived in rural Indiana and don't get to the "big city" of Indianapolis that often to people from Canada who had never been to Indianapolis. To help everyone out we created a program insert with ideas for their spare time. I tried to include our favorite restaurants and shopping areas around both the ceremony and reception venues. It ended up being a pretty great idea. I know my godmother and her husband decided to check out the restaurant where we first met and later had our first date. I'm pretty sure the wives of the groomsmen ended up at one of our favorite bars in downtown Indianapolis (the same place we ended my bachelorette party…but that's a story for a different post!).
Signage
We needed two separate signs at our reception. The first was the seating chart, letting the guests know their dinner table. Jill helped us create these signs, so that the fonts matched our invitations. We ordered two, so that people wouldn't have to congregate around one sign during the cocktail hour. We got some backless frames from Hobby Lobby to make them look a bit more elegant. Dave made the second sign, also using the same fonts as our invitations. This sign was to explain to our guests that a donation to the Humane Society of Indianapolis in honour of our pup Katie with the money that otherwise would have been spent on wedding favours.
Place Cards
Our guests had a choice of three entrees (beef, chicken, or vegetarian) so we needed a way to indicate each guest's meal choice to the servers. To pull that off, we ordered place cards from Jill and then my mom found some really cute stickers on Etsy. There were a bunch of different sticker options (I kind of wish we had served lobster just so we could have used the cute little lobster stickers!) and you could get them in a variety of colors. We ordered chickens, cows, and carrots all in blue to match the decor. Unfortunately the meal sticker was in the top right corner of the place cards, so it didn't make it into the picture below.
The catering company put together the menus for us, and they did such a lovely job of matching everything to our theme and decor!
I'm linking up again this week with Mary for Wedding Wednesday. I'm also really excited to announce that I will be hosting this link-up on April 30th when Mary is busy with her own wedding and honeymoon! Whoop whoop!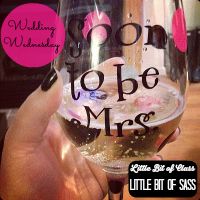 Until later, Ashlen