{one}
I'm going to start this post of right with sharing my Blogger Love. Get ready, there were several great reads this week!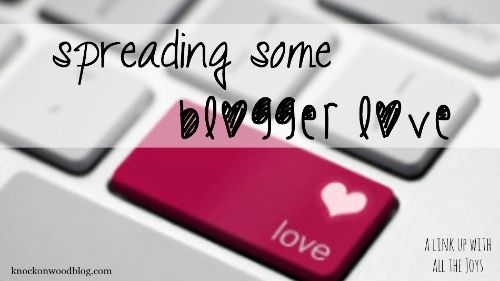 Overcoming Our Insecurities by Melissa from the Rambling LLama posted at Life with Mrs G and the Artist – If you read one post this week, this is the post it should be. Melissa is brave in so many ways, but especially for sharing her story of childhood abuse.
Journal Swap Creative by Sage the Blog & Love the Here and Now – Cassie and Anne came up with the brilliant idea of a journal swap. This is open to anyone on the internet, not just bloggers! I've already signed up, and I'm already looking at different journals. The deadline to sign up is March 9th, so head over to either one of their sites to sign up now! I'm excited to find out who I'm paired with and swap a journal with them – it's just a really fun idea. Plus there are a million cute journals out there. I'm waiting to find out who I'm paired with and learn a bit about them before I make my final choice!
5 Easy and Small Changes to Make Your Blog Better – Seriously, Sarah? – I love posts like these because I inevitably learn something I didn't know before or figure out a way to improve the layout or look of my blog. Sarah had several great suggestions and I'm updating my blog accordingly!
Thoughts on Being an Only Child – Cupcakes and Cashmere – I'm an only child. Dave's an only child. My only cousin is an only child. I've had many wonderful friends who are only children. I don't know if I've met an only child that hasn't loved being an only child. Given that Cupcakes and Cashmere has a huge (gigantic) following, it's nice to know that Emily is touting the awesomeness of being an only child. Only children have gotten such a bad reputation…it's actually been used as an insult towards me. Like I had any control over the matter. It's a stereotype I would love to see come crumbling down. Continue reading Five on Friday →